Boat Storage Racks
Security, Locking, and Tiedowns
For SUP Paddleboards, Canoes, Kayaks, and Boats


NOTE: Boats Are Not Required To Be Locked Down - This is Optional
This page highlights the different ways to secure down
canoes, kayaks, boats, and SUP paddle boards to your boat storage rack.
To Secure Racks Down to Different Mounting Surfaces CLICK HERE to see the Storage Rack Anchor Page
Advantages of Lockdown Systems
While There Are Many Systems To Lock Boats In Place Such As SUP Leash Locks And SUP Fin Locks, The Suggestions Shown On This Page Capture Each Boat Securely To Each Arm And Make The Boats More Difficult To Remove
SUPs Can Be Securely Locked To A Trailex Storage Rack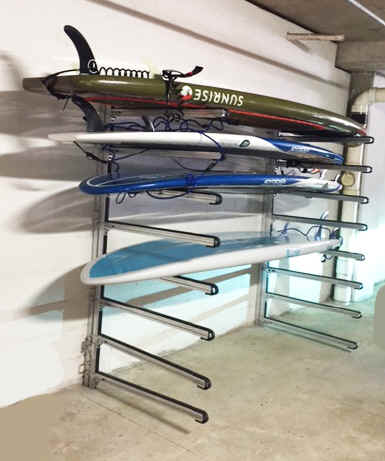 Shown is a SUT-WR4 with Four Extra Arm Sets. This holds Eight (8) Surfboards.
Using the FWSC Web Strap Clips on Each Arm Allows Use of Locking Cables on Each End of the Boards To Help Prevent Unauthorized Removal
Contact Us for Assistance in Ordering
| | | |
| --- | --- | --- |
| FWSC Option | | Set of Four Clips |
| Optional Tie Down points for Web Straps or Bungee Cords - Use to add extra tie down points to secure boat. Easily adjusts to any position by sliding. | | FWSC Option includes Four Sliding Square Eyebolts. These can be installed on any side of a member on the unit that has a slot and then locked in place by tightening the nuts. |
Trailex Rack Configured For SUP Paddle Board Lockdown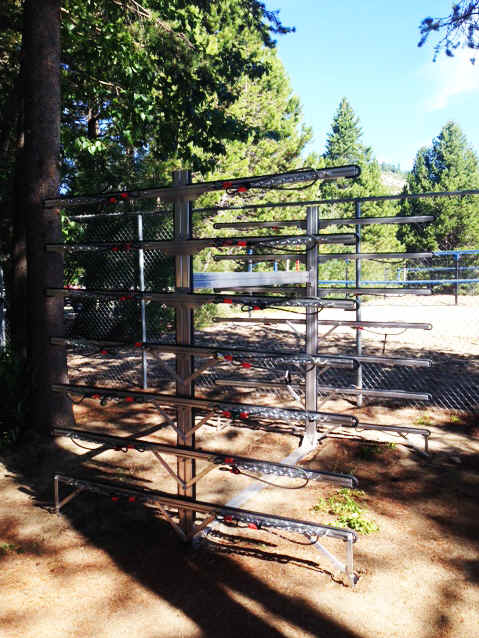 Shown is a TR-801 with Three Extra Arm Sets.
The Locking Security Cable Is Attached To Web Strap Clips On Each Arm. This Allows You To Securely Cinch Each End Of The SUP Paddleboard To The Arms. This Method Captures The Paddle Board On Both Ends, Preventing It From Being Removed By Unauthorized Users.
Contact Us for Assistance in Ordering
Security System can also be used with Trailex Box Style Rack s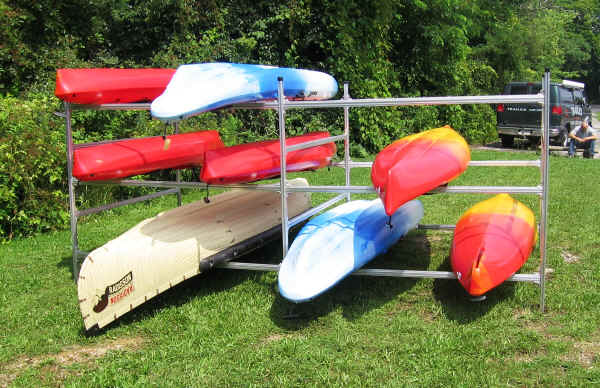 Trailex SUT-3BR Box Style Rack and SUT-3BRE Extension with Kayaks and Canoe
Typical Lock Down Systems
Many Types Of Locking Cables Can Be Used.
Cables With Loops And Padlocks Can Be Adjusted To Cinch Boards To Rack Arms.
Shown Below Is A Locking Cable System From Master Lock.
| | | |
| --- | --- | --- |
| | | |
| Racks Can Be Bolted Down | | Master Lock Cable Lock |

See A Video Of The Master Lock Python Cable System
---
---