Walden Kayaks
Kayaks for Recreation, Fishing and Hunting


Award Winning Kayak

The Walden Scout Was Selected As The
2001 Winner of Fly Fish America Magazines
Editor's Choice Award.
Walden Kayaks are earth friendly,
being made from recycled and recyclable plastics.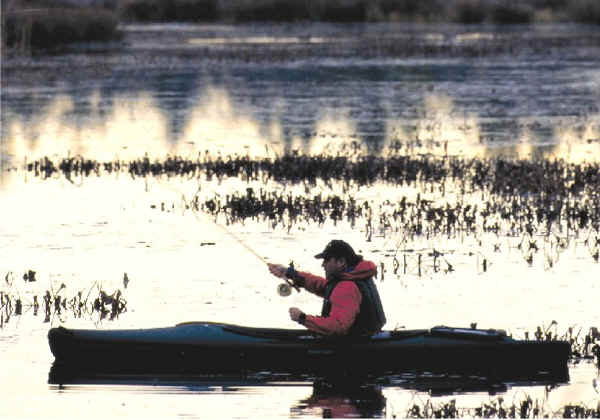 The Walden Scout Kayak Is The Premier Model For Fishing And Hunting.
It Features A Large Cockpit With Plenty Of Room For Your Gear Or Your Dog.
It's Wide Beam Makes It Very Stable For Sporting use.



Constructed of roto-molded recycled and recyclable plastic - polyethylene, it has a foam sandwich in the hull. This extra floatation makes it unsinkable. The Foam layer also adds cold water insulation and provides sound insulation for a a quiet hull. This construction method provides for a stiffer hull, which makes for easier paddling and smooth travel though the water.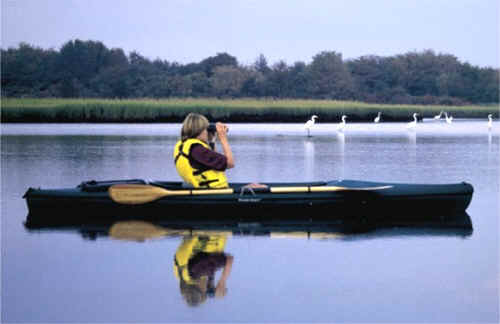 The Award Winning Walden Scout Kayak Has A Unique Three Keel Hull Design. This Gives The Kayak An Arrow Straight Tracking, Which Gives It A Big Advantage When Hunting And Fishing. The Scout Has Unique Molded-In Paddle Grooves On Both Sides Of The Kayak, With Locking Straps. This Feature Allows You To Strap Your Paddle Along The Kayak For Hands Free Fishing Or You Can Use It To Strap Your Fishing Rod Alongside The Kayak While Traveling To Your Favorite Fishing Spot.
Walden Scout - Special Features
Extra Large Roomy Cockpit
Low profile in the Water
Triple Keel for Straight Tracking
Large Rear Hatch with a Sealed Compartment Area
- Can Also Be Used as a Beverage Cooler*
Twin Side Carriers to Park your Paddle
or Carry Your Fishing Rods
Rear Drain Plug
Padded Back and Seat Cushions
Adjustable Seat Back
Seat features Beverage Holder
Interior Foot Pegs
Top Tie-Down Storage Cords
Optional Camouflage Pattern
Optional Fishing Package

*Hatch dimensions - 10" wide x 15" long x 7" deep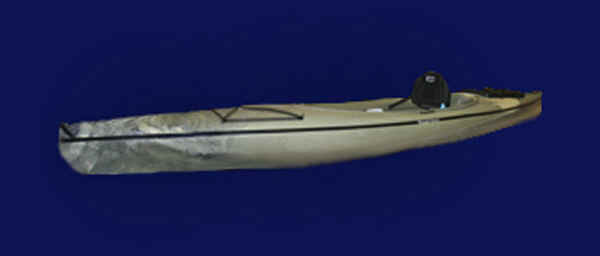 The Walden Scout Shown in Optional Camouflage Pattern.
The Camouflage Pattern is a series of random colors unique to each kayak, due to the manufacturing process.
The pattern, which varies from kayak to kayak, is composed of olive, tan and black.
| | | |
| --- | --- | --- |
| | | |
| The Walden Scout has a large Watertight hatch with dimensions of 10"Wx 15"L x 7"Deep. Kayak shown in Camo pattern. | | View of the Walden Scout's large, roomy cockpit. Cockpits feature padded back and seat cushions* Camouflage pattern shown. |

The Walden Kayak is great for family fun, fishing or recreation.
Walden Kayaks are earth friendly, with all of our kayaks made from recycled and recyclable plastic.


Walden Kayak is designed for hunting and fishing. Use your Walden Kayak in all seasons.


WALDEN ADIRONDACK






The Walden Adirondack Kayak Is A Favorite For General Recreation.
It's Large Cockpit Allows Easy Access And Plenty Of Room.
The Adirondack Also Has An Optional Retractable Rudder
To Allow For Maximum Control

WALDEN SCOUT

The Walden Scout Kayak Is Our Favorite Sporting Model
Due To It's Wide Beam, And It's Large Cockpit.
It's Large Storage Hatch Allows Easy Access To Gear.
Fishing Package Options Are Available, As Is A Camouflage Color Option.
Feel Comfortable In This Stable Kayak As You Go Fishing Or Hunting.
2001 Winner of Fly Fish America Magazines Editor's Choice Award.

WALDEN SPIRIT


The Walden Spirit Kayak Is Our Tandem Large Cockpit Kayak.
The Second Seat Can Swivel, Or May Even Be Removed
If You Wish To Use it as A Solo Model With Room For Extra Gear.
It is Considered A Sporting Model Because Of It's Wide Beam.
Great For You Alone, Or With A Companion.

Walden Vista


The Walden Vista Kayak Is Considered A Light Touring Kayak.
At 39 lbs., It Is the Lightest Model In It's Class.
Due To Its Unique Design, It Has All Of The Performance Of An Equivalent Kayak
Of 14' in length, Yet It's 12' 6" Length Makes For Easy Handling.
Sleek And Fast, This Is The Model You Want To Cover Longer Distances.

Walden Odyssey


The Walden Odyssey Kayak Is Our Longest Light Touring Kayak at 13' 2" Long.
This Is The Model You Want For Challenging, Longer Expeditions.
Its Narrow Beam Lets You Cut Quickly Through The Water With High Performance.
| | | | | | | |
| --- | --- | --- | --- | --- | --- | --- |
| Color Availability | RED | ORANGE | YELLOW | GREEN | BLUE | CAMO* |
* Camouflage pattern varies due to manufacturing process
Sorry, camouflage pattern unavailable for other kayak models.

The Walden Spirit Kayak Is Great For Family Fun!


Which Kayak Is The Best Choice For Me?

ADIRONDACK
SCOUT
SPIRIT
VISTA
ODYSSEY
RECREATION
TOURING
X
FLAT WATER
X
X
X
X
X
RIVERS
X
X
X
X
X
OPEN WATER
X
LONG TREKS
HUNTING
X
X
FISHING
X
X
CAMPING
X
PHOTOGRAPHY
X
X
X
X
NATURE
WATCHING
X
X
X
X

- Indicates the best suited model(s) for application
Walden Kayak
Models
MODEL
TYPE
WIDTH
LENGTH
CENTER
DEPTH
WEIGHT
CAPACITY
COCKPIT SIZE
ADIRONDACK
Recreational
28"
11' 6"
13.5"
55 lbs
300 lbs
43" X 19"
SCOUT
Sporting
29.5"
12'
12"
54 lbs
325 lbs
54" x 20"
SPIRIT
Sporting
30"
14'
14"
65 lbs
425 lbs
85" x 24"
VISTA
Touring
24"
12' 6"
13"
38 lbs
260 lbs
32" x 17"
ODESSEY
Touring
23"
13' 2"
13"
49 lbs
225 lbs
31" x 19"
Standard Features
Molded-In Floatation
Sealed Rear Bulkhead (except Scout*)
Rear Drain Plug
Interior Foot Pegs
Top Tie-Down Storage Cords
Watertight Storage Compartments
* Scout has a special hatch compartment
PRICES
| | | |
| --- | --- | --- |
| Adirondack | 720.00 | + Shipping & Handling |
| Scout | 784.00 | + Shipping & Handling |
| Spirit | 962.00 | + Shipping & Handling |
| Vista | 856.00 | + Shipping & Handling |
| Odyssey | 876.00 | + Shipping & Handling |
Optional Accessories
Class III Life Vests are available in the following size:

Adult - 90 lbs and over

Typical representations only. Actual specifications and colors may vary. Photos are examples only of a Type III PFD Life Vest.

Stabilizer Outrigger for Kayaks

Kayak Stabilizers

Floats can telescope out to a 6 ft spread, and they quickly attach without any tools.

Stabilizers fit Small, Large, Open and Multiple Cockpit Kayaks.
Stabilizers can also fit Sit on Top Kayaks