Seitech Boat Launching Dolly
Launching Dolly for Sailboats Such as Sunfish, Laser, Optimist, Club 420, Pico, Snark, Zuma, Force 5 and Similar Sailboats. Also for Small Boats, Jon Boats, Zodiac Style Inflatables, Catamarans, Canoes, Kayaks & Rowing Shells.


FREE SHIPPING ON SEITECH DOLLIES*
*within the 48 USA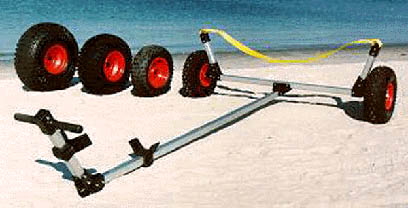 Dollies for Sailboats, Boats, Inflatables, Canoes, Kayaks and Other Boats


Seitech Dollies In Action Video
---
---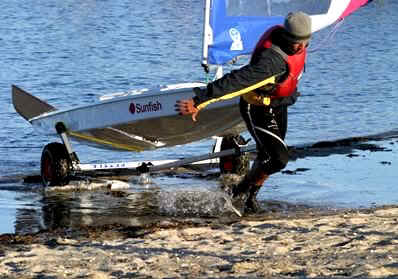 Retrieving Sunfish Sailboat Onto Beach With Seitech Dolly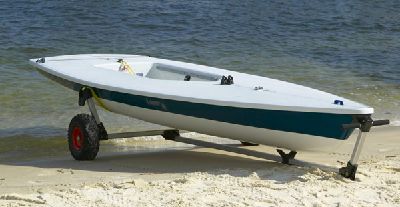 Laser Sailboat Ready for Action on the Seitech Beach Launching Dolly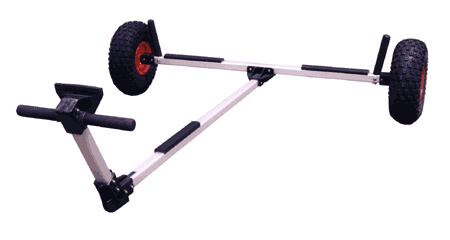 Seitech Opti Boat Launching Dolly Configuration 6 for Optimist Sailboat

Seitech Configuration 5 for Zodiac Style Inflatable Boats
| | |
| --- | --- |
| | The Seitech Launching Dolly makes it easy to launch, retrieve, move or store your boat. Easily assembled the Seitech dolly can be car-topped or broken down for auto trunk storage. Made of lightweight aluminum, the average shipping weight is only 45 lbs. Seitech Dollies are available for canoes, sailboats, aluminum boats, inflatable boats, dories, skiffs, and rowing shells. |
Seitech Models are available for any Boat, Canoe or Sailboat
Typical Seitech Launching Doll Specifications
MODELS

BOAT Types

OVERALL LENGTH
WIDTH

WEIGHT


CAPACITY


Single Axle Single Tongue
Configuration 1-7
Sunfish, Zuma and Similar Sailboats
108" *
60" *
45 lbs
250 lbs
Single Axle
Dual Tongue
Configuration 5
420 Sailboat ,
Inflatables and Similar Boats
136" **
84" **
60 lbs
350 lbs
Dual Axle
Dual Tongue
Configuration 9
Hunter 176 and Similar Large Boats
134"***
105"***
90 lbs
450 lbs
* Typical for a Sunfish Sailboat Configuration 4 Dolly Model With Standard Wheels
** Typical for a 13' Inflatable Boat Configuration 5 Dolly Model Standard Wheels
*** Typical for a Hunter 170 Sailboat Configuration 9 Dolly Model With FAT Wheels

Typical Configuration For Sunfish
And Most Small Sailboats

This Larger Model Is Typically Used
For Larger Boats and Inflatables.




Seitech Launching Dolly Wheel Options
When should you consider an upgrade for tire size? If sand is loose enough, that your foot sinks in it to your ankle height, then the next size up tire would be appropriate. Also, larger tires give you a higher axle clearance when traversing rough terrain.
"FAT" Tire is used on "Soft Sand"

Standard "A" Works well
on Standard Beach Sand


FAT Tire Standard A Tire
Remember - selecting a larger size tire increases the dollies floatation when in the water. When using Fat tires, step on the centerline tube to submerge dolly when retrieving boat.
A Tire size
Boats 250 lb & under
Used on Hard or Firm Sandy surfaces

Standard
Beach

14" x 5"

F Tire size
Boats of any size moved over Soft, Soft Sand, or Rough surfaces

FAT Upgrade

19" x 9.5"
| | | |
| --- | --- | --- |
| Typical Dolly for Inflatable Boat | | Fishing Boat with Motor on Dolly |
| Seitech Makes Boat Handling Easy | | Seitech has models for many boats |
PRICES
FREE SHIPPING ON SEITECH DOLLIES*
*within the 48 USA