Trailer Options


MAST CARRIERS
Aft Mount Mast Stand
Deck Mount Mast Carrier DMMC4

10" Aft Stand

Vee opening is 6" at top, 3" at bottom
2.5" depth, - vinyl covered

48" Front Mast Stand & Optional Winch

FMS Front mast stands are available in 48" and 60" height. These mount to the trailer's front tongue and can be used with different combinations of rear mast carriers

How High a Front Mast Stand Do You Need? Tip--measure the the height from the top of your hitch ball to the top of your vehicle's roof to determine how high a clearance that you need. The rear mast carrier's height will determine the angle of your mast as it goes over your roof.
| | | |
| --- | --- | --- |
| | | |
| Front View Showing Optional Mast Stand | | Rear View Showing Optional Mast Stand |

Mast Carriers are available in a number of optional arrangements.
Aft Mast Carriers fit into the 3/8" pintle on the rear of sailboat transoms.
Available in sizes: 10", 16", 33".
Deck Mount Mast Stands fit on the flat deck surfaces of sailboats, the four suction cup feet prevent marring or damage to the boat. You tie the spars down to the boat or trailer and the pressure from the tied down spars hold the Deck Mount Mast Carrier in place - not the suction cup feet, which are only to prevent shifting and protect the deck.
Examples:
SMSK Set for Sunfish/ Laser Sailboats or similar sailboats uses 10" Aft Mast Stand with front Deck Mount Mast Carrier. Will work with any similar style sailboat with 3/8" pintles.
Use Two DMMC4 Mast Carriers for carrying disassembled mast with spars when using a boat cover
Use Two DMMC4 Mast Carriers for Sailboats with flat fore and aft decks
WINCH OPTION

Typical Winch Installation on a SUT-200-S or SUT-250-S Trailer


Winch is Available as an Option
Shown on SUT-450-I Trailer

Winch Strap is 20' X 2" with Hook
Trailex Winch
Requires Winch Post ( part of Winch Package when Ordered)

IMPORTANT NOTE: YOUR BOAT NEEDS A 1" INSIDE DIAMETER BOW-EYE OR RING TO TO FIT THE HOOK.

Specifications:
1,500 lb Capacity
Single Speed
Gear Ratio 4.1:1
Strap 20ft. x 2in. with hook
Hook is Forged Approx 7/8" X 1/2" Nose ( Need 1" inside Diameter Bow Eye or Ring on Boat)
Ratchet Type Two-way
Dimensions - 5-1/2" L x 3-3/4" W x 6" H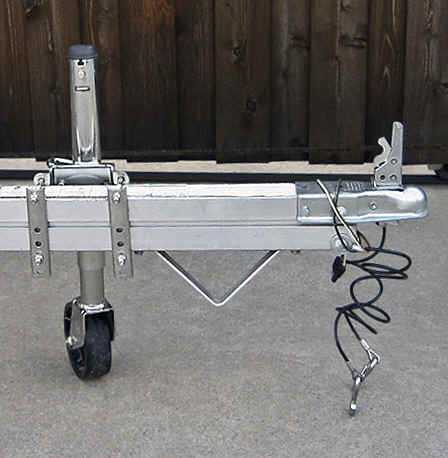 Optional Front Parking Jack

Optional Front Parking Jack has a Wheel as the bottom support. Jack will adjust to any location along the trailer tongue length. It raises the wheel off the ground to allow clearance when the trailer is attached to a vehicle hitch. ( note: this is a rack style jack, that raises vertically only - it does not swing up)

Do You Need a Jack?

Many Users do not need a Jack, but may prefer one for convenience. The Trailex Trailer has a front "V" support that will keep the Hitch Coupler off the ground if you choose not to mount a Jack on the trailer
WEB STRAP CLIP OPTION
| | | |
| --- | --- | --- |
| FWSC Option | | Set of Four Clips |
| Optional Tie Down points for Web Straps or Bungee Cords - Use to add extra tie down points to secure boat. Easily adjusts to any position by sliding. | | FWSC Option includes Four Sliding Square Eyebolts. These can be installed on any side of a member on the unit that has a slot and then locked in place by tightening the nuts. |
TWO KAYAK CONVERSION OPTION
SUT-200-S / SUT- 350-S TRAILER ONLY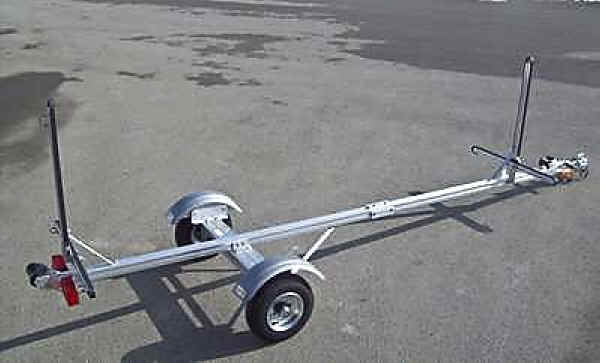 The Trailex SUT-200-S Trailer can be converted to a Dual Kayak Trailer with the SUT-200-MPK Kit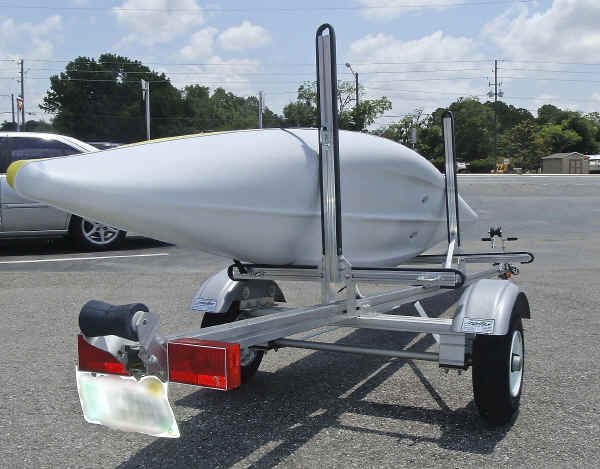 The SUT-200-MPK Dual kayak Conversion Kit replaces the supplied Cradles and installs the
Tee Bars on the Trailex SUT-200-S Trailer or the SUT-350-S Trailer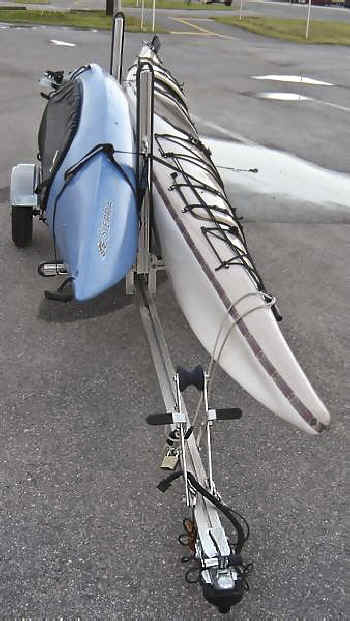 Trailex SUT-200-S Trailer With Two Kayaks after
installing the Optional SUT-200-MPK Tee Bar Set

CUSTOM FRONT CRADLE OPTION
Optional FCA-1 Custom Front Cradle Assembly Provides Additional Bow Support Adjustment
NOTE: Special Use Only-Not Required for Most Boats

Cradles Adjust To Fit Many Special Boats Such As the
Force 5, MXRay and Others